Series 6U/6T
The 6U series pump is intended primarily as a high pressure fluid power pump. It is available foot or flange mounted and is suitable for cyclic pressure service.
The 6T series is produced in a cast steel casing with a combined foot/flange mounting arrangement. The pump is primarily used for medium pressure gas sealing applications on compressors.
6U/6T

SERIES

Nominal flow rate, GPM/LPM, at 2500 PSI (172 BAR), 200 SSU (43 CST)

SPEED RPM

Size

3500

2900

1750

1450

1150

118*

16/59

12/45

-

-

-

137

26/98

20/75

-

-

-

156

39/150

31/116

14/52

-

-

187P

55/210

43/164

20/75

-

-

187

72/271

56/214

27/103

20/74

-

200

88/334

70/264

34/130

25/95

-

218

118/446

94/354

47/178

35/132

23/87

250

180/682

144/545

75/283

57/214

39/146
*6U only
Series 6U/6T Specifications
Casing- 6T: Cast alloy steel. 6U: High tensile, close grain cast iron
Rotor Housing- Pearlitic gray iron
Power Rotor- Alloy steel, hardened and thread ground.
Idler Rotors- Alloy steel or Pearlitic cast iron, hardened and thread ground.
Gaskets- Cellulose and non-asbestos fiber.
Seal & Bearing- Fluoroelastomer bellows mechanical seal with carbon on niresist faces and an external, permanently grease packed, deep groove ball bearing. Carbon on carbide seal faces available on 6T series.
Accessories- Completely mounted, built to order pump/driver assemblies are available with baseplates, etc.
Outlet Pressure- 2500 PSIG (172 BAR) maximum. 3000 PSIG (207 BAR) under certain conditions. Consult Imo Pump. Minimum recommended differential pressure is 50 PSIG (3.4 BAR).
Inlet Pressure- 6T: 75 PSIG (5.2 BAR) maximum, sizes 137 & 156. All others, 50 PSIG (3.4 BAR) maximum. 6U: 50 PSIG (3.4 BAR) maximum.
Viscosity- 60 to 3000 SSU (10 to 650 CST). Hydraulic oils, lube oils, phosphate ester and water-glycol fire resistant fluids can be handled per standard pump ratings.
Temperature- 0 to 180°F (-18 to 82°C).
Drive- Direct only.
Rotation- Clockwise facing pump shaft. Counterclockwise rotation optional.
Mounting- May be foot or flange mounted in any attitude.
Filtration- Inlet strainers are required to keep contaminants and abrasives out of the pump. They must be selected in consultation with the strainer vendor to prevent pump starvation. Normally, 60 mesh (0.01 inch- 238 micron) for light and 1/8-3/16 inch (3-5mm) openings for heavy oils are recommended
Connections- Inlets and outlets are SAE 4-bolt flange pads. Mating socket weld flanges are included with 6T series pumps but must be specified and purchased separately for 6U series pumps. All 6T inlet heads are rotatable in 90° increments. Series 6U inlet heads are rotatable in the following increments: Sizes 137 & 156: 60°. Sizes 187 & UP: 45°. SAE port pad bolt patterns are for 3000 PSI rated flanges except the 6U-118 and 187/200 use a 6000 PSI pattern and the 218/250 inlet uses a 500 PSI pattern.
Maximum Speed*- Size 118: 5400 RPM. Sizes 137 & 156: 4400 RPM. Sizes 187 & UP: 3600 RPM. Special pumps available to 8000 RPM with boosted inlet pressure. Consult Imo Pump.
* Assumes minimum inlet pressure requirements are met.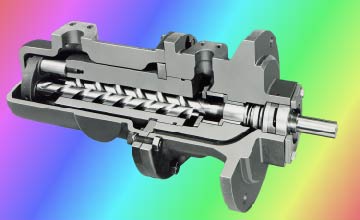 Typical cutaway for the 4UVC and 6UVC Series. A 6U is shown; the 4U is shorter having fewer screw wraps.
The 4T and 6T are very similar but have a combined flange/foot mounting arrangement as well as a steel casing.