Tritec Series Pumps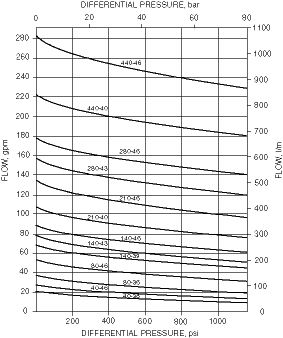 The Tritec series three screw pumps are designed for handling liquids with little or no lubricating properties, liquids that are corrosive or that contain abrasives. Examples include fresh or sea water, desalinated or deionized water, acid containing liquids, boiler feedwater, caustic solutions, emulsions, naphtha, waste oils and solvents, residual oils, etc. The use of stainless steel casings, proprietary metal-ceramic lined housing and super hard-coated, corrosion resistant steel pumping screws means long life on very difficult services. Tritec pumps offer high efficiency, low pulsation, extremely low noise levels and low shearing of the liquid pumped. Variable flow can be achieved using variable speed drives. Pumps are suitable for combustion gas turbine water injection for Nox emission reduction, water hydraulics, chemical processing, liquid fuel atomization for boilers and gas turbines, steel ingot descaling in rolling mills and other non-traditional three screw pump applications.
Tritec Series Specifications
Casing- Fabricated stainless steel or cast copper alloy.
Rotor Housing-Proprietary metal ceramic composite lined stainless steel or copper alloy.
Rotors-Proprietary sintered material for abrasion resistance or a proprietary stainless steel for corrosive service.
O-Rings-As required, fluorocarbon typical.
Shaft Seal-& Bearing- Mechanical seal of various styles; sealless magnetic drive also available. Ball bearing is permanently grease packed and external to the fluid pumped.
Balance Bushing-Silicon carbide lined.
Outlet Pressure-1160 PSIG (80 Bar) maximum.
Inlet Pressure- 100 PSIG (7 Bar) maximum assuming suitable mechanical shaft seal.
Differential Pressure- Operation at differential pressures below 40 psi (2.8 BAR) may require pump modification to assure sufficient shaft seal coling flow. Consult Imo Pump.
Viscosity-0.30 CST minimum. Maximum dependent on shaft sealing system and available inlet pressure.
Temperature-210°F (100°C) maximum dependent upon elastomers used. Higher temperatures on special application.
Speed-3600 RPM maximum.
Drive-Direct only through flexible coupling or magnetic drive.
Rotation-Clockwise only facing pump shaft.
Mounting- Available in foot or flange mounting, horizontal or vertical.
Accessories- Completely mounted pump/driver assemblies with baseplates, etc.
NOTE: Not all capabilities can be accommodated simultaneously. Consult Imo Pump with specific pump operating requirements.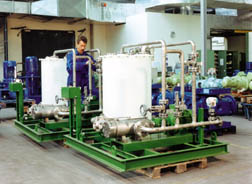 Tritec pumps on water injection skids