Series T324
The T324 series is a double suction design for a compact, medium flow, medium pressure pump. It is used extensively for crude oil processing and transport as well as for fuel oil services.
T324

SERIES

Nominal flow rate, GPM/LPM, at 700 PSI (48 BAR), 200 SSU (43 CST)

SPEED RPM

Size

1750

1450

1150

960

870

400P

598/2265

480/1816

361/1367

286/1083

250/948

400

757/2864

609/2303

460/1742

366/1387

322/1219
Series T324 Specifications
Casing- High shock capacity ductile (nodular) iron.
Rotor Housing- Bronze standard, bimetal optional.
Power Rotor- Alloy steel, hardened and thread ground.
Idler Rotors- Alloy steel, hardened and thread ground.
Gaskets- Cellulose and non-asbestos fiber.
Seal & Bearing- Type B: Buna N bellows mechanical seal with carbon on niresist faces. Recommended for distillate oils. Type ZT: Positive drive mechanical seal with carbon on carbide faces. Recommended for residual and crude oils. All types have one external, permanently grease packed, deep groove ball bearing.
Accessories- Completely mounted, built to order pump/driver assemblies are available with baseplates, etc.
Outlet Pressure- 700 PSIG (48.3 BAR) maximum.
Inlet Pressure- 65PSIG (4.5 BAR) maximum. Designs available to 400 PSIG (27.6 BAR). 50 PSIG (3.4 BAR) maximum for pumps with double shaft extensions.
Viscosity- Type B: 33 to 3000 SSU (2.0 to 650 CST). Consider cold startup conditions. Type ZT: 33 to 20,000 SSU (2.0 to 4300 CST).
Temperature- Type B: 0 to 180°F (-18 to 82°C). Type ZT: 0 to 250°F (-18 to 121°C)
Drive- Direct only.
Rotation- Clockwise facing pump shaft.
Mounting- Horizontal foot mount.
Filtration- Inlet strainers are required to keep contaminants and abrasives out of the pump. They must be selected in consultation with the strainer vendor to prevent pump starvation. Normally, 60 mesh (0.01 inch- 238 micron) for light and 1/8-3/16 inch (3-5mm) openings for heavy oils are recommended.
Maximum Speed*- 2300 RPM. Speeds above 1800 RPM require Imo Pump review.
* Assumes minimum inlet pressure requirements are met.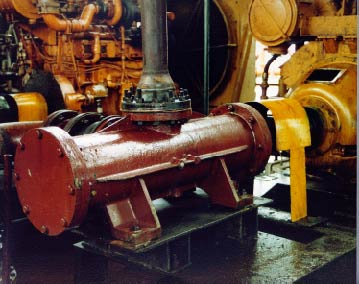 Diesel engine driven T324 series pump on an oil production platform, Lake Maracaibo, Venezuela