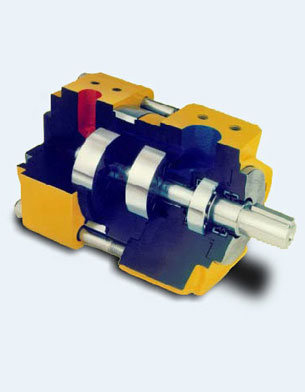 Gear Pumps

CIG (Crescent Internal Gear) pumps are produced primarily for fluid power applications and aircraft fuel test stands.
They are available in multiple stages for very high pressure or moderate pressure on very low viscosity fuels. Pumps are also available in double pump configurations which share a common inlet port but deliver two independent flows for supporting multiple machine functions.
The patented tooth profile of CIG pumps avoids trapping fluid. The result is a very low pulsation, extremely quiet high efficiency pump.
Single pumps are available in 54 different models and double pumps in over 1300 different combinations.
Single pump flow rates from 1 to 125 GPM ( 4 to 475 L/M) with continuous pressure ratings to 5000 PSIG (345 BAR).
Pumps are available in single and double configurations. The double pumps have a common inlet port and two independent discharge ports. Pumps can be provided in a number of staging arrangements allowing very high pressure capability or high pressure at low viscosity.
CIG

Model

Flow Range (1)

Pressure Range (2)

GPM

L/Min

PSI

BAR

2*005

1.1

4.2

4000

275

2*006

1.6

6.1

4000

275

2*008

2.3

8.7

4000

275

3*010

2.9

11.0

4000

275

3*012

3.7

14.0

4000

275

3*016

5.3

20.1

4000

275

4*020

7.2

27.3

4000

275

4*025

9.3

35.2

4000

275

4*032

12.2

46.2

4000

275

5*040

15.3

57.9

4000

275

5*050

20.1

76.1

4000

275

5*063

26.1

98.8

4000

275

6*080

32.1

121.5

4000

275

6*100

41.9

158.6

4000

275

6*125

52.1

197.2

4000

275

8*160

67.4

255.1

4000

275

8*200

83.5

316.0

4000

275

8*250

105.1

397.8

4000

275
* Number of stages / Available 1 through 5 Stages
(1) At 1750 rpm / Capable of operating at higher and lower speeds - Contact Imo Pump
(2) Capable of operating at higher pressures - contact Imo Pump